Q : How to install?
A : The method to install Eri Toileto

Q : What is the minimum bars of water pressure can it be applied?
A : The water pressure is between 2 to 5 bars, which stays in the normal household standard of water pressure usage.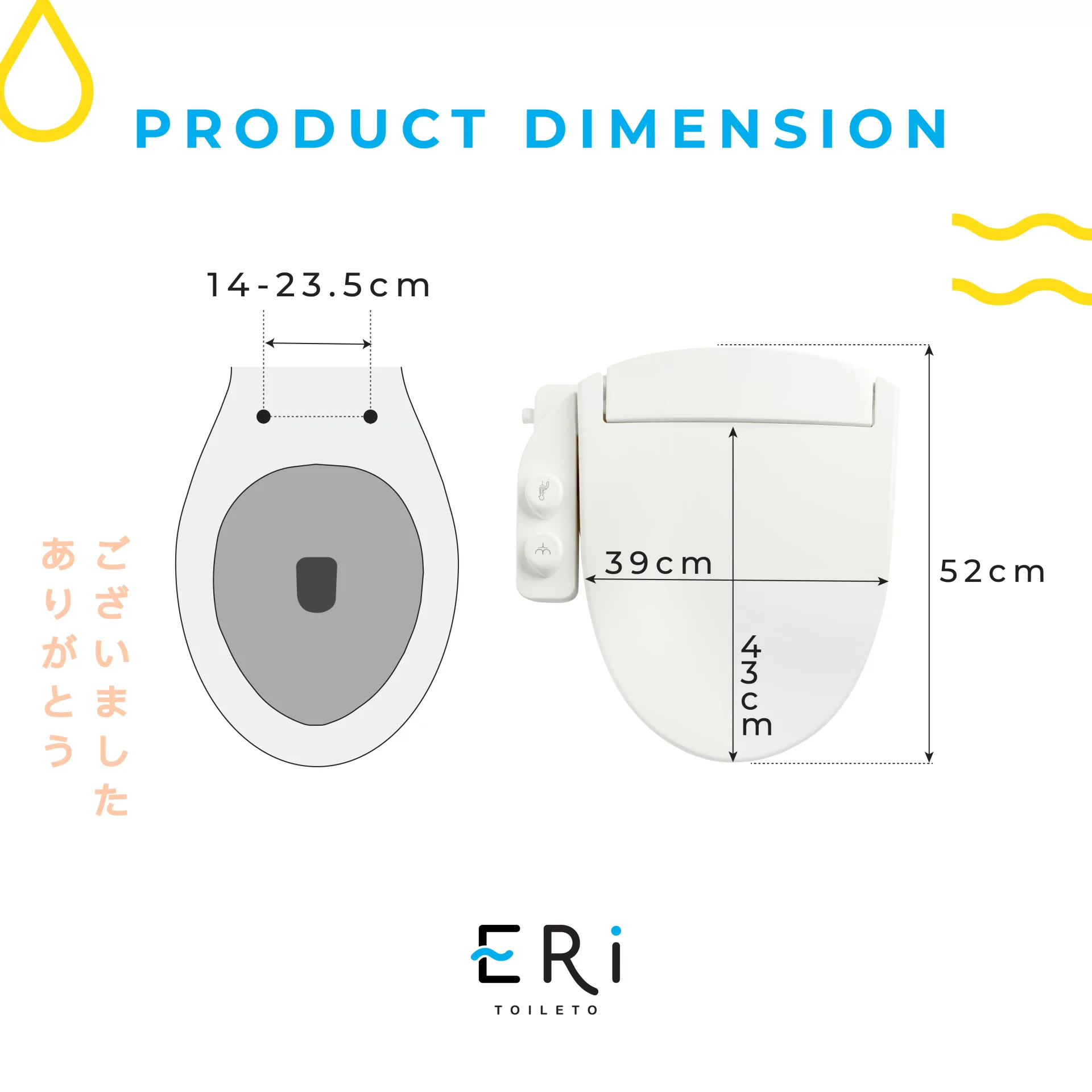 Q : Is there any installation fee?
A : Installation fee, including transportation fee within Bangkok, is 500 baht. It takes around 20 minutes to install by our 24 Fix mechanics. Convenient, Safe, and Impressive service.


Q : Can nozzle be cleaned?
A : Cleaning directions are provided in the sticker on top of the nozzle. Pulling out the nozzle head and clean it with water or a soft cloth. It can be pulled for the both types of nozzle head. Initially, the nozzle has self cleaning system itself and it activates before and after the use. It is recommended to have additional cleaning with the frequency of once a month.


Q : Can it be installed with every toilet?
A : Eri Toileto can be install with every toilet as long as it is a standard size in the market. The hole range of installation should be between 14-23.5 cm. Oval-shaped toilet bowl or cover is the convenient type for installation. Other shapes can also be installed and it will not have any problems with the use except the edge for sitting depending on the shape.


Q : ข้อควรระวังในการใช้งาน
A : ห้ามใช้ผลิตภัณฑ์ทําความสะอาดประเภทนํ้ายาทำความสะอาดพื้นบ้าน ทินเนอร์ ผงขัดทำความสะอาด และแปรงขัดไนลอน เพราะเนื่องจากอาจทำให้ผิวพลาสติกเสียหายได้
: ห้ามนั่งยอง หรือวางของหนักบนที่นั่ง หรือฝารองนั่ง เพราะอาจจะทําให้ผลิตภัณฑ์แตกได้
: ห้ามให้ผลิตภัณฑ์โดนแสงแดดโดยตรง หรือรังสี UV ไอความร้อน เพราะอาจทําให้สีของผลิตภัณฑ์เปลี่ยนแปลงได้